Strengthening evidence-based decision-making
GHD/EMPHNET and NESI Meeting, Amman, Jordan
Amman, Jordan,

 

13

to

 

14 January 2020
NESI signed a Collaboration Agreement with Global Health Development (GHD)/ Eastern Mediterranean Public Health Network (EMPHNET) on 14th January 2020 in Amman, Jordan. NESI was invited for a two days meeting by GHD/EMPHNET.
In the meeting both the organisations gave a brief introduction on their work, targeted regions/countries and planned activities. During the meeting, potential areas of collaboration were discussed. Previous reports had illustrated that there are gaps in access to vaccinology course in the EMRO region and it was mutually agreed to increase the capacity on vaccinology trainings and strengthen the immunisation programs in the EMRO region through operational research, education and training as well as through technical support at all the levels of health system hierarchy.
Follow-up activities on HPV vaccine introduction workshops
Two follow-up surveys were conducted following the workshop "Supporting HPV vaccine introduction in the Asian region" in Bandung, Indonesia, in November 2019.

The first survey was sent out 3 months after the workshop in February 2020 and focused on the following issues: current status of the HPV vaccination programme; sharing of information following the workshop; other topics of interest; preferred training format.
The second survey was sent out 9 months following the workshop in August 2020, in the midst of the COVID-19 pandemic, and focused on the impact of COVID-19 on the immunisation programme in general and specifically on the HPV vaccination programme.
Erasmus+ Mundus Joint Master Degree "Leading International Vaccinology Education" (LIVE), Lyon, France
Lyon, France, 23 September 2020
The Erasmus+ Mundus Joint Master Degree "Leading International Vaccinology Education" (LIVE) was launched September 2016. LIVE is a two years Master's programme between five European universities: Université Claude Bernard Lyon 1, France (coordinating university); Universtat Autonoma de Barcelona, Spain; Universitat de Barcelona, Spain; University of Antwerp, Belgium; Université Jean Monnet Saint-Etienne, France. The programme is supported by a worldwide network of 31 international associated partners and 16 supporting partners. NESI is supporting partner to the LIVE programme.
A total of 25 students are currently enrolled in the fourth LIVE promotion, called the "Maurice Hilleman" Master LIVE Promotion 2019-21.
NESI was invited to give a lecture on 23 September 2020 at the Université Claude Bernard Lyon 1, during the third semester of the LIVE programme in the session on "Communication on vaccines and public health". However, due to the COVID-19 pandemic, the lecture was delivered online. Topics presented included: History and rationale of vaccination schedules; role of the NITAGs; and GVAP goals.
From the third LIVE promotion, the "Lady Mary Montagu" Master LIVE Promotion 2018-20, one student successfully completed her 6-months internship with NESI. Her research focused on "Assessing confidence in measles vaccination in Wakiso District, Uganda: Comparison of two data collection tools".

ECAVI Vaccinology Course, Kampala, Uganda
Kampala, Uganda, 19 to 23 October 2020
The vaccinology course for health professionals was organised by the East Africa Centre for Vaccines and Immunization (ECAVI) from 19 to 22 October 2020 in Kampala, Uganda. Due to the COVID-19 pandemic, the course was delivered in a hybrid format.
The aim of the vaccinology course was to equip healthcare professionals with up-to-date knowledge and skills on vaccines and immunisation in order to enable them deal with current and emerging challenges related to the immunisation programme.
The format of the course included: formal lectures; case studies; debate and discussion; and presentations by participants.
Upon completion of the course, participants were able to:
Understand the concept and principles of vaccination
Describe how vaccines work and their side effects
Describe indications, contraindications, efficacy, and safety of vaccines according to WHO criteria
Identify, manage and report adverse events following immunizations
Identify ways to improve communication with patients, parents, and caregivers about vaccination
Identify best practices for implementing or improving immunization programs
Understand how to link and partner with other stakeholders involved in vaccination and immunization
Champion and advocate for uptake and promotion of immunization
A total of 20 participants attended the course in-person in Kampala, while an additional 40 participants attended online. The participants came from the following countries: Kenya, Rwanda, Senegal, Somaliland, South Africa, South Sudan, Sudan and Uganda.
NESI was invited by ECAVI to chair 3 sessions and to give the following lectures: (1) Overview of vaccine-preventable diseases and their epidemiology; (2) Human Papillomavirus vaccines. NESI participated online in the course.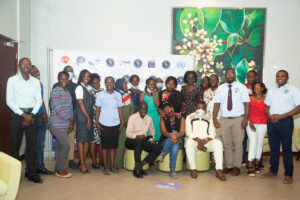 16th Annual African Vaccinology Course, Cape Town, South Africa
Cape Town, South Africa, 30 November to 4 December 2020
The 16th Annual African Vaccinology Course was organised by the Vaccines for Africa Initiative (VACFA), University of Cape Town, from 30 November to 4 December 2020 in Cape Town, South Africa. Due to the COVID-19 pandemic, the course was organized in a hybrid format, offering both face-to-face and online participation and facilitation.
The objectives of the course included:
Provide participants with essential and up-to-date knowledge on human vaccines
Encourage dialogues about the successes, challenges and opportunities to improve national immunisation programmes in Africa
Provide a forum for NITAG members to share country-specific immunisation policy-making experiences and identify areas for collaboration and technical capacity development
Foster communication and networking among African vaccinologists
Keynote lectures on issues around COVID-19 vaccine development and accessibility within the African context were delivered by internationally recognized experts.
A total of 34 participants attended the course in-person in Cape Town,  while 50 participants attended the course virtually. Participants had diverse backgrounds and came from 12 African countries.
 The course was facilitated by 38 faculty members (national and international), all experts in the field of vaccinology coming from academia, government, non-governmental institutions and pharmaceutical industry.
NESI was invited by VACFA to give a lecture on "HPV vaccination during the COVID-19 pandemic". NESI participated virtually in the course.
Development of Training Materials
Pocket guide for community health workers to support the national immunisation programme in Sierra Leone
Following the successful introduction and use of two training modules developed for Community Health Workers (CHW) in Sierra Leone using Mobile Training and Supportive Service (MOTS), it was felt useful to make the training modules also available in a different format. The Pocket Guide is based on the content from the MOTS platform developed together with the EBODAC consortium, and was approved by the Ministry of Health in Sierra Leone.
The Pocket Guide is a hands-on practical document and is composed of two modules: (1) Vaccination and (2) Outbreak Response. Each module consists of several sub-topics. Each sub-topic contains short descriptions, illustrations, and key messages. The Pocket Guide provides a framework for users and can be further adapted to local conditions.
Module 1 on Vaccination explains the importance of vaccination and will guide CHWs through the vaccination schedule of Sierra Leone. At the end of this module CHWs will be knowledgeable about the need for vaccination, who should be vaccinated and when, and where to go for vaccination.
Module 2 on Outbreak Response explains the importance of reporting notifiable diseases and events, births, deaths and stillbirths. At the end of the module CHWs will know which diseases and events need to be reported, to whom to report and how to complete the surveillance register.
This pocket guide was developed in collaboration with EBODAC and the Ministry of Health in Sierra Leone in the context of an Innovative Medicines Initiative-funded project. This project has received funding from the Innovative Medicines Initiative 2 Joint Undertaking under grant agreement EBODAC (grant nr. 115847). This Joint Undertaking received support from the European Union's Horizon 2020 research and innovation programme and EFPIA.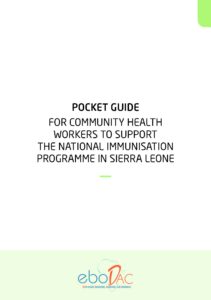 Mid-Level Management training
Revision of the EPI MLM training modules, a TNA and more
National immunisation systems are constantly undergoing changes, including the introduction of new vaccines and technologies, and programme expansion to reach broader target populations beyond infants and children. In addition, the EPI programme faces external changes related to administrative decentralization, health reforms, among others. EPI programmes operate within the context of the national health systems, in alignment with global and regional strategies.
To address these changes and to ensure the smooth implementation of immunisation programmes, EPI managers and staff require skills in problem solving, priority setting, decision-making, planning and managing human, financial and material resources as well as monitoring the implementation, supervision and evaluation of services.
In view of the above mentioned current changes, WHO/AFRO in collaboration with key immunisation partners, like UNICEF and NESI/University of Antwerp have revised the standardised EPI Mid-level management (MLM) training modules, which were first developed in 2004. The revision was supported by Bull City Learning, an organisation specialised in instructional design. In addition, the training was reformatted to have a mix of classroom and self-paced online training.
The experience of the MLM training and perspectives have been documented in the "Pan African Medical Journal".
Masresha B, Dochez C, Bumgarner A, Pienkowski N, Mihigo R. The WHO African regional training course for mid-level immunisation managers – lessons and future directions. Pan African Medical Journal 2020; 37: 194. 
To understand the current training needs and preferred training platform in order to develop strategies to guide the work of EPI capacity building within the WHO African Region in the coming years, a Training Needs Assessment was conducted at the end of 2020 in nine priority countries (3 countries in each of the 3 sub-regions).