Partnerships & Collaborations
Partnerships and collaborations are fundamental to achieve our mission. Key collaborations and partnerships are described below.
World Health Organization Regional Offices
NESI has held a memorandum of understanding (MoU) with the World Health Organization Regional Office for Africa (WHO/AFRO) since 2004. In the context of this MoU, NESI and WHO/AFRO collaborate on a variety of training and education initiatives, including Mid-Level Manager (MLM) trainings, vaccinology courses, and the development of training materials.
NESI has also worked with the World Health Organization Regional Office for the Eastern Mediterranean (WHO/EMRO) through a joint plan of action.
Gavi, The Vaccine Alliance
At the 10th Gavi Board Meeting in 2003, Gavi made a formal endorsement of NESI's activities.
Collaboration Agreements
Collaboration agreements have been established with: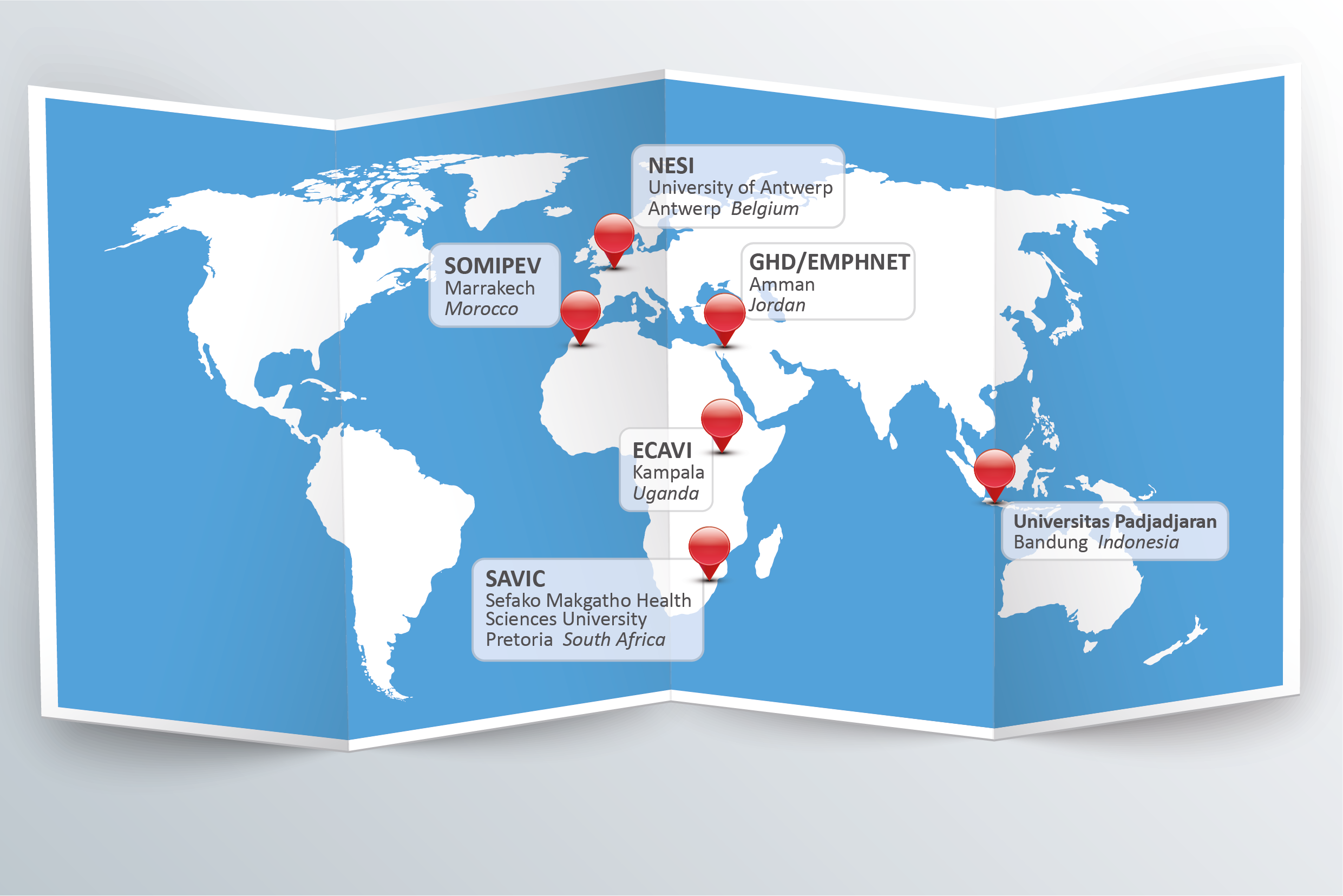 Other collaborations
NESI also maintains active collaborations with a number of additional universities and non-profit organisations. These include the following:
African Region:
South African Medical Research Council (SA-MRC),

 

South Africa
University of Cape Town (UCT) – Vaccines for Africa (VACFA),

 

South Africa
University of the Free State,

 

South Africa
University of Pretoria,

 

South Africa 
Stellenbosch University,

 

South Africa
University of Nairobi,

 

Kenya
Kenya Medical Training College (KMTC),

 

Kenya
East Africa Centre for Vaccines and Immunization (ECAVI),

 

Kenya
Kwame Nkrumah University of Science & Technology,

 

Ghana
University Cheikh Anta Diop,

 

Senegal
Institut de Recherche en Santé de Surveillance Epidémiologique et de Formation (IRESSEF), Senegal
Centre for Infectious Disease Research in Zambia (CIDRZ),

 

Zambia
Eastern Mediterranean Region:
University of Jordan,

 

Jordan
University of Marrakech Cadi Ayyad,

 

Morocco
European Region:
Institute of Tropical Medicine and International Health,

 

Germany
London School of Hygiene and Tropical Medicine,

 

United

 

Kingdom
Université Claude Bernard Lyon (UCBL), France
Make a donation now
By supporting NESI you are contributing to "Saving lives through immunisation".